Hello readers! Or should I say… MERRY CHRISTMAS!!!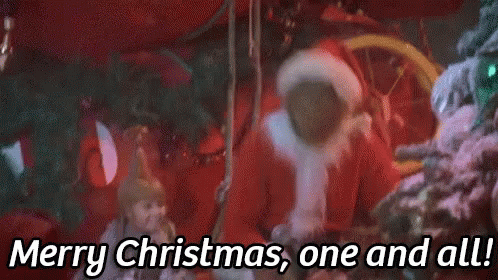 Let's slow down a little bit, and look back on the past month!
I haven't finished any of the books I've started this month. I began reading Dune, which is a monster of a book.
And since I have no new updates, have you guys heard of Likewise? It's an app that recommends movies and books based on the others you like. I wasn't sold at first, but I've found some really great books this way.
I would love it if you would check out my account (I'm new so it's not very impressive). I'd love to be friends on the app!
https://likewise.com/profile/sarah_ballinger_1842
The Wish Dragon is a Netflix original movie about a guy named Din who is longing to reconnect with his childhood best friend. He meets a wish-granting dragon and teaches him the value of friendship.
This is basically an Aladin retelling. In fact, it is just like Aladin. Even down to the character's name. Aladin.
This was a really good movie. I loved the character arcs. I watched this while sick and I may have watched it a few times in a row.
Star Trek (2009). I'm not the biggest fan of J.J. Abram's films, so I had low expectations going into this movie. Honestly, I felt like the first hour and a half of the movie was just a waste of time. The last thirty minutes of the movie was really good though. When the actual storyline/conflict was revealed.
One thing that I loved was the characters. They were spot on and I have a deeper appreciation for the original series because of them.
A Boy Called Christmas. This film could have been better, but for the number of things they did for a film that was barely scraping a run time of an hour and a half, it wasn't that bad. I thought the mouse was cute. I haven't read the book this movie is based on, but I'm guessing it's much better.
Ghostbusters: Afterlife. This was a really great movie! I can't wait to watch it again!
I failed miserably at NaNoWriMo this year. I got a few thousand words in, finished the first act, realized there was a plot hole, didn't feel like fixing it, and got distracted by another project.
I've just started outlining a new thriller that I am really excited about! I'm planning on beginning the first draft in the spring.
According to Spotify, I have been listening to "Falling Apart" by Michael Schulte a lot this month.
I just started blogmas yesterday! If you missed it, I am doing 12 days of Blogmas. Every Monday, Wednesday, and Friday I will have another festive, holiday post for you guys!
First day of Blogmas: 50+ Blogmas Post Ideas For Every Niche | Blogmas Day One
My most popular post: The time I almost gave up on Writing
One you might have missed: InkBox Semi-Permanent Tattoos | Unsponsored Review
---
How was your thanksgiving? What type of Blogmas posts do you like to see?
Thanks a bunch!
— Nerd