Hello! Happy Halloween everyone! October got away from me and now it's already NaNoWriMo! I can't believe it's already November. 2021 went by so fast. Personally, I thought 2021 sucked so I'm looking forward to the new year.
Despite the month flying by, I had a lot of fun! Let's take a look at some of the things that happened this month!
What?! Did I actually read a book this month!
This post uses affiliate links. If you shop from these links, I get a small commission for promoting the product. Don't worry! It doesn't cost you anything extra!
Batman: Nightwalker by Marie Lu is the story of young Bruce Wayne (before he was Batman) who has just turned eighteen and inherited his family's fortune and Wayne industries. After interfering with a police investigation, Bruce is given community service at Arkham Asylum where he meets a very mysterious girl, Madeleine Wallace. A girl who has been convicted of three gruesome murders. A girl who will only speak to Bruce.
Meanwhile, the gang known as the Nightwalkers terrorizes Gotham City, and Bruce happens to be next on their hit list.
As you know, I hate YA fiction, but I love Batman so I decided to give this book a shot. It was definitely a YA book. For the most part, the book was really good. There was a couple thing I didn't like about it. Mainly the themes. The book presented themes of sexism, racism, and class, which of course are great themes, but the way the author approached them so bluntly made them lose their meaning.
Bruce's character was way different than I expected. My idea of Batman is the brooding billionaire that I thank Christian Bale for. This version of Bruce was definitely Adam West's version of Batman. Maybe slightly more true to the original idea of Batman. It was fun!
The book was a good who-done-it. I read it in an afternoon. It was fast-paced and suspenseful. I would absolutely recommend it!
Sidekicks: Technically, I watched this last month and just forgot to mention it. Coming from someone who has taken martial art classes and has never seen Karate kid, I thought this movie was a lot of fun! It was about a boy named Barry who's asthmatic and is bullied for his overactive imagination. Barry fantasizes about being Chuck Norris' sidekick. Fighting ninjas and other bad guys. Barry meets an old man who teaches him martial arts. This film was released in 1992 and was directed by Aaron Norris and stars Chuck Norris, Jonathan Brandis, and Mako.
The Muppets Haunted Mansion: As a muppets fan, I am so disappointed. This film was a mess. Much like all of the movies Disney has released in the past four years.
The Bat: My mom is a big Vincent Price fan. I have seen more of his movies than I can count. This one was really good. It was like an early concept of Murder She Wrote. You'll see what I mean. Mystery writer Cornelia Van Gorder rented a country house at the same time that the killer known as "The Bat" is rumored to have returned. The house's owner, John Fleming, has hidden a stolen one million dollars somewhere in the house. People will do anything to get their hands on the money. This was a great suspenseful mystery. Every time I thought I figured out who "the Bat" was, something would happen to make me rethink. This film was released in 1959. It was directed by Crane Wilbur and includes a cast of Vincent Price, Agnes Moorhead, Gavin Gordon, and Lenita Lane.
Night of the Living Dead: After the dead begin to walk, a disparate group of people takes refuge in an abandoned house. When the zombies surround the house, the group needs to find a way out, and survive the night.
Are you ready for NaNoWriMo? Because I'm not. This past week has been so busy, I just hope I can find the time to knock out the first few thousand words. If you are interested in what I'll be working on this nano check out Book in Progress — Part Seven: The last Update before NaNoWriMo.
This year's project is called "TIP." It is a middle-grade fantasy. I am so excited to work on this new idea! I haven't finished outlining yet, but I'm a pantser so it doesn't really matter. I ended up staying up late to work on some world-building. I'm not done with those details yet but I think I'm getting somewhere.
I will be doing NaNoWriMo updates and bits of inspiration throughout the month so if that's something you're interested in be sure to follow this blog so you won't miss out!
Are you doing NaNoWriMo this year? What are you working on?
This album is amazing. It's all I've been listening to all month. I even bought it on vinyl!
I can't even pick a favorite song on this album. I love them all!
Our most popular post this month was Blog Post Ideas for October
Here's one you might have missed! Book in Progress — Part Seven: The last Update before NaNoWriMo
This month I have discovered the Think! Brownie Crunch Protein Bars. I have never been a fan of protein bars but these are so good!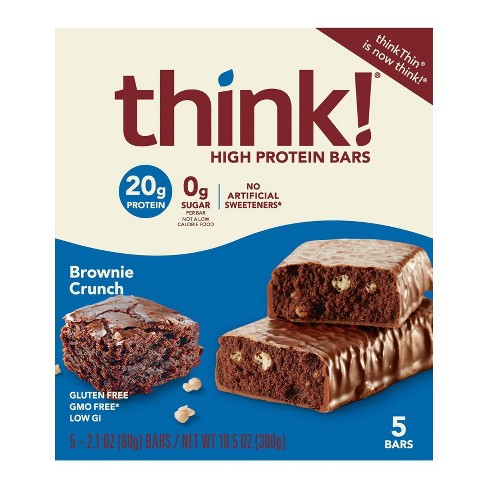 How was your October? Are you ready for NaNoWriMo?

Thanks a bunch!
— Nerd